Home Instruction
Support for Families Who Teach Their Children at Home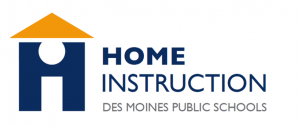 The Des Moines Public Schools Home Instruction Program is an alternative K-12 educational program open to all families who choose to home school their children.
Although the parent is the primary teacher, the Home Instruction Program offers support for the families through regularly scheduled home visits with certified teachers. Students have the option of participating in weekly enrichment classes, standardized testing and alternative assessment. Families may check out textbooks and resources available to K-12th grade students.
Home school students who choose to dual enroll may get involved with classes, activities and services at their neighborhood school. Several of our students enjoy the career and technical classes at Central Campus as a way to explore future careers and earn college credit. Families who are CPI (unassisted) can file a Form A with our office and take advantage of these same programs.
The Home Instruction Assistance Program started in 1984 as a result of parent requests.  It began with one teacher and fifteen students.  Today we have a team of teachers servicing over 400 students in the assisted program.
---
If you would like to register for the 2023/2024 school year, please click the link below:
2023/2024 Home Instruction Pre-Registration